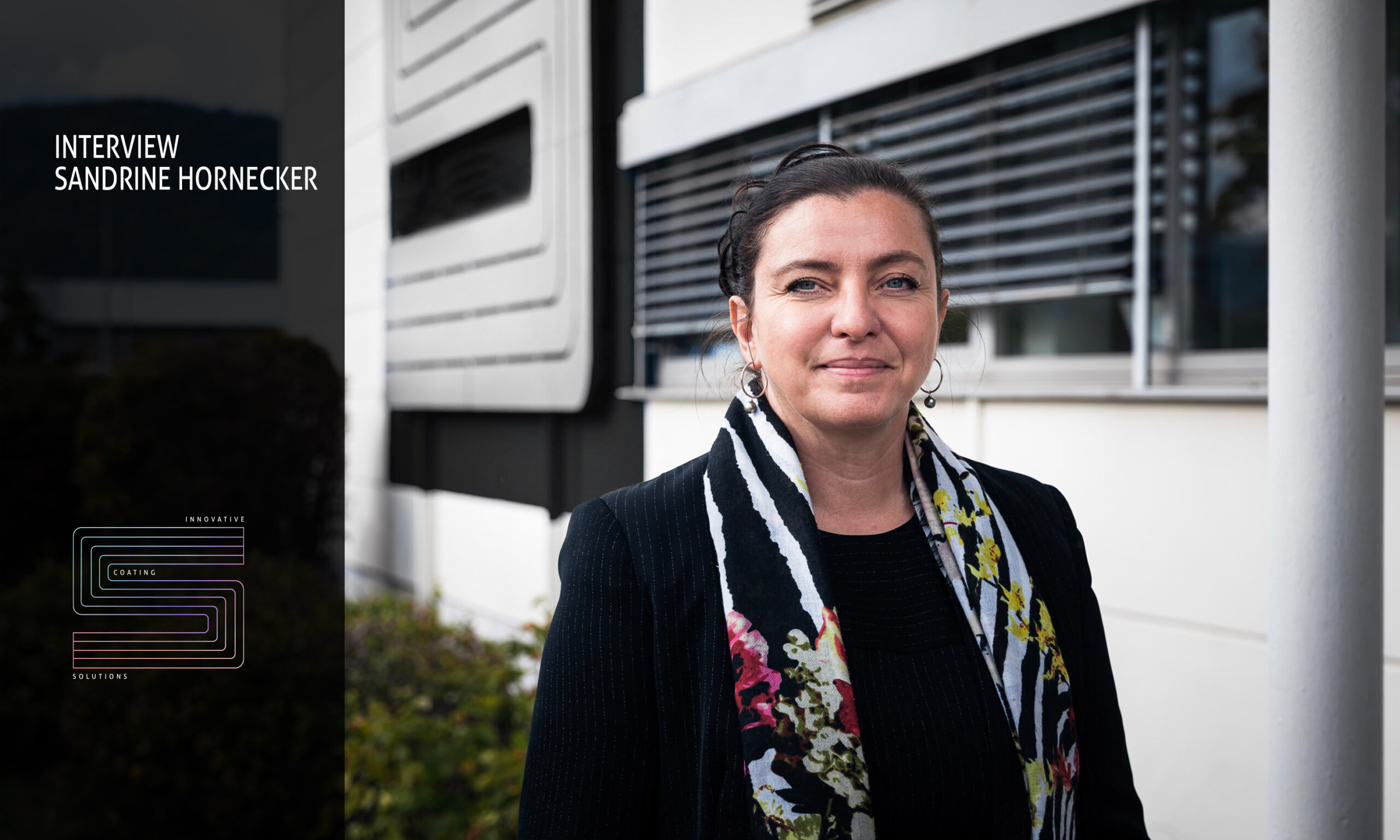 INTERVIEW of Sandrine HORNECKER
In its Alsatian workshops, SENFA Innovative Coating Solutions designs and develops unique new visual experiences that have a strong emotional impact. Truly impressive! SENFA achieves this with its textile solutions.
Indeed, for over 45 years, this company, which specialises in functional technical textiles, has been offering solutions and services, mainly on the advertising, decoration, home improvement and building markets. SENFA – a leader in coating technologies – belongs to one of the most globally renowned textile groups in France, especially for its innovation capability: the Chargeurs Group.
The company – profoundly innovative and creative, but with industrial roots reaching deep into the local area – is led by Managing Director Sandrine Hornecker, who implements an operational development strategy with an emphasis on seeking overall performance and upholding the principles of sustainable development. In constant pursuit of challenges, Sandrine Hornecker is rewriting the codes of SENFA with the aim of better showcasing its technical expertise to its clients, while also highlighting the full creative potential of its teams. The objective? Providing a 360-degree vision of SENFA's expertise, from wide billboards with flame-retardant properties, to coated blackout or even wave-shielding fabrics and washable face masks for the general public. Sandrine Hornecker agreed to sit down with us and take a look at the key elements of this strategy and her vision for the future of SENFA.
With 12% of its revenue ploughed back into R&D, innovation truly is in SENFA's DNA. How does innovation occur on a daily basis, for example, through private developments and collaborative projects?
Innovation is in our DNA, just as it is for the Chargeurs Group. At the core of SENFA's strategy, innovation generates new opportunities, so we can offer our clients differentiated solutions that create more value for them. On a competitive market and in an ever-changing world, companies have to innovate constantly, to maintain and sharpen their competitive edge. By innovating, we set ourselves apart on our captive markets, stay on the cutting edge and generate growth. Our new products are very often at the front of their fields, fully leveraging our power of technical innovation, based on the performance of our R&D team and on our ability to anticipate market trends and societal shifts.
Working collaboratively is crucial, whether it's with technical centres, universities or schools. It expands our own knowledge base, but it also enables us to characterise the performance of our prototypes, with the French Textile & Apparel Institute (IFTH), for example, in order to ascertain that a product truly meets all the standards listed on its technical datasheet before it's marketed. SENFA has also been part of the Pôle Textile Alsace, practically since it was founded, with an active role in its governance. I've been involved in this myself for the past two years.
Our clients are much more than clients; they're also our partners, and we strive constantly to meet their needs, so as to give them that proverbial competitive edge. Within the company, there are synergies between our departments, the most important one being a customer-centric synergy between the sales force, the marketing team and the R&D department. Our suppliers also play a key role in this collaborative effort to find the best solutions for the end customer, with functions that we will be capable of offering on fabrics, thanks to our coating technique. We accompany our clients and suppliers in developing technical specifications in order to optimise the value chain and provide the best possible response to the market's expressed need.
In our range of products, we also offer functions that can be quite cutting-edge, such as our shielding fabric, Estompe®, for example. This type of highly innovative product is part of our range of technical solutions, but it's still well ahead of market demand.
All of the company's departments can contribute to the emergence of innovative features. We thus have a development committee that meets every three weeks, to analyse pending projects and whether they should be continued or not, depending on the preliminary results, but also to look at new requests and proposals for projects. Every subject is analysed on the basis of market demand, resources to be mobilised and technological relevance, among other factors, and the management team decides whether to greenlight projects or not.
SENFA's communication tools, especially the website, have recently been completely redesigned and modernised. Is this a move towards a new identity, a new level of recognition for the company?     
When I first joined the management team, I thought the website failed to really reflect the company's potential; it just presented a few technical aspects of the business, without showcasing our products. But SENFA is a major player on the market, a specialist of functional technical textiles for visual communications and advertising, as well as for hotels, decoration and even sun protection! Our website didn't correspond to this visual, creative dimension that we wanted to convey. The new website now features all of our products in a dedicated catalogue with a search engine, but it also demonstrates the full breadth of our know-how, on a modern, well-designed online platform providing a 360-degree vision of our expertise, with the constant goal of guiding and serving our clients to the best of our ability and giving them easy access to information.
Establishing a real content strategy is a crucial step in every digital communication project. We've held onto everything that goes into SENFA's identity; our industrial roots and production facilities; the French craftsmanship that we've been offering for over 45 years, combined with a certain youthfulness and great potential for creativeness and innovation.
SENFA's product range aims to affect decision makers, but also the people in charge of designing a project's ambiance, across many sectors, such as the construction industry, shops and businesses, public services, visual communications, and others. Thanks to a broad range of fabric printing possibilities, our textiles have a strong emotional impact, with an effect that comes very close to photography! Thanks to our materials, our clients can make 3D animations…
This new communication strategy has been designed and built collaboratively with all of our teams, with everyone sharing their ideas and adding their input, by participating in photo shoots, for example. Showcasing them on this new website was important to us, as well. Finally, communicating on social media has enabled us to break free from the constraints of a purely technical, industrial environment, to promote SENFA and showcase our impressive achievements to a large audience.
The events industry, one of your main markets, has suffered extensively from the lockdowns in France and around the world. Has this decline in demand had a significant impact on your business, and what have you done to adapt to this exceptional situation?
The difficult health and economic context caused by COVID-19, as well as the support of the Chargeurs Group and of our employees, has once again demonstrated SENFA's amazing resilience, agility and responsiveness. Indeed, right from the first few weeks of lockdown in spring 2020, we developed textile composites to make UNS 1 face masks under the Lainière Santé brand of the Chargeurs Group. We then produced these composites in very large quantities.
In a fiercely competitive environment, it's not enough to just focus on your core business – you also have to constantly reinvent yourself and broaden your scope. To do so, you have to identify the company's assets, which is what we did last year when we responded to the call of our government and of our CEO Mr Fribourg, who asked every business unit of the group what it could contribute, in order to quickly produce these composites which were tested in accordance with the official protocol of the DGA, the French Defence Procurement Agency. All of our employees responded very quickly, and we've been very proud to do our part in the national effort.
We simultaneously reinforced the SENFA brand and worked on our offering, in order to be able to provide innovative new solutions as soon as business resumes on our traditional markets, probably in the second half of 2021. We were able to identify new opportunities, for example in the sectors of architecture and visual communications, with the launch of new products made from a fully recycled polyester base.
The digital transformation, the digitization of processes and workshops, has been occurring – sometimes forced through – in many companies in the sector, with the aim of being more agile and flexible. Is this transformation also underway at SENFA?
Increasing demands in productivity and competitiveness have made digitization inevitable in every company.  It will help us rationalise the user experience and facilitate interactions between companies and their customers.
At SENFA, the digital transformation underway has lots of advantages. It enables us to optimise our procedures, the links between all the mechanisms of the company, while keeping the customer at the forefront of everything we do. But it's the employees who remain the key players in this digital transformation. Taking account of the needs, ideas and constraints of the people working on a day-to-day basis is a crucial step in successfully bringing our industry through the digital transition. Computers are nothing without the knowledge and skills of humans!
We benefit from the strength of the Chargeurs Group, as we rely on cross-cutting skills that we previously lacked, for example, in digital marketing and IT staff. In the workshop, the equipment was already highly automated, and the few items remaining to be optimised will take us further towards Industry 4.0 in the coming years.
Whereas several manufacturers quickly decided to stop making masks, why did you choose to invest in manufacturing protective face masks, and to continue this over the long term? Is the market still strong in France now?
The French face mask industry is still fragile, because nothing really indicates that products made in France will be preferred in the coming years – both in terms of private and public purchasing. We've seen that several government ministries would like to support French craftsmanship. But unfortunately, our public procurement processes are currently based on tendering procedures and technical specifications that are prohibited from requiring more restrictive provisions about the origin of products, without breaking competition laws.
However, in order to limit the import of some products, certain terms concerning the social and environmental impacts of products could be applied in order to prioritise shorter supply chains, especially for hospitals and schools. This way, French companies could position themselves without pricing being the only factor deciding which companies are awarded these contracts.
The main takeaway, though, is that this crisis enabled a large number of textile and clothing companies to demonstrate their agility, by staying in business by making masks, sometimes even saving their businesses this way, creating a positive dynamic and gaining much broader brand recognition. There was a wonderful, exceptional outpouring of solidarity that we must hold onto in building our future.
Most importantly, I think we're going to transition from a "constrained" market, a commodity market, towards a market of face mask personalisation. It's becoming an actual fashion accessory, and textile, coating and printing are well-established specialities at Chargeurs, so there's a development strategy at SENFA for this product.
Is personalisation now one of the biggest growth levers for the textile and clothing industry?  
Anything that enables our customers to be different is important, and this trend will probably continue to grow. Personalisation is already part of our core business. Customer service in general is a growth factor. We ourselves don't have the structure needed to respond to the needs of private individuals, but, for example, we are working with a sister company in England that offers customers the ability to personalise their interiors with personal photos and in other ways!
Did the antimicrobial functionalization projects at SENFA get accelerated by the COVID-19 crisis?  
It's an additional function that we can offer our clients, for example, when businesses reopen. They might want to offer products that deal with the problem of bacterial proliferation, or even antiviral products. Our classic Sign range is offered in different versions in the BeSafe® range, which provides specific functions. We've already received requests for this type of product.
Corporate Social Responsibility (CSR) is one of the strategic commitments of the textile sector. What are the key points of SENFA's CSR programme?
There are always CSR measures to be taken, so we didn't wait for it to be imposed on us to integrate it into SENFA's strategy. However, three key CSR points have top priority. First of all, environmental performance, with a strong commitment to making the industry more sustainable and establishing optimal control over our environmental impact, and reducing our carbon emissions and our use of non-renewable resources. Furthermore, environmental impact assessment information is available on each product data sheet on our new website.
The second point is the management of the health crisis, with a multiplication of protective measures for our employees, as well as the business of face mask manufacturing, which enabled us to protect jobs and actions of external solidarity. Our interpersonal ties were considerably strengthened by this extraordinary period. Finally, the safety of people in the workplace is of utmost importance. We are pursuing our objective of reaching "zero accidents", and we are making progress every year in this safety culture, with a consistent decline in the accident frequency rate since 2018.
You're the first woman to be in charge of an industrial facility in the Chargeurs Group. Beyond the operational skills highlighted, do you think this points to an industry-wide trend?
Yes, I've had this honour since 2019, and for me it's a wonderful recognition, by the governance of the Group, of my commitment, professional skills, know-how and life skills. Of course, my entrepreneurial spirit is behind my appointment as Managing Director, based on unflagging motivation, especially during this unexpected health crisis! I'm naturally pragmatic and benevolent, and I hope that I bring a new vision to my colleagues; probably a different management style, a culture of constructive discussion and participatory management. And, of course, I have a great team to help me get the job done.
When women have a real, strong sense of entrepreneurship, they are as efficient as their male counterparts, and they often bring different advantages to the table. I hope to see more and more women entrepreneurs in every sector of business, because they are inspiring, creative and refreshing, and many of them should believe more firmly in their potential and skills.
The company has the Alsace Terre Textile and France Terre Textile accreditations. Why did you decide to become part of a system of origin recognition? Is French craftsmanship a strong growth lever for your business?
These two certifications heighten our visibility not just in our local area, but also across France as a whole. It seemed logical to us to communicate about our local roots, our know-how and, most importantly, about the people who work every day to make SENFA what it is.
Regarding French craftsmanship, it has very clearly become a huge competitive advantage since the COVID-19 crisis. International clients are attracted to French products, because they represent know-how, tradition and refinement, in the world of luxury, for example. This is another opportunity for us to highlight our advantages, such as quality, civic engagement and environmental responsibility, in comparison with our foreign competitors.
Which textile technology or product has surprised you lately?
Smart textiles, connected clothes, capable of protecting you and making your life easier in lots of different ways, soon even providing medical treatment. Every manufacturer of this type of textile, innovating in this way, must be encouraged. This clothing protects the lives of our fire fighters, for example. Used properly, they absolutely represent a technology of the future. Maybe we'll incorporate them into our textile products too, one day, to make flexible screens, for example. It's a wonderful revolution that's coming for our sector and our future innovations!
Propos recueillis par N.Righi – IFTH – Juillet 2021
Photos©: SENFA