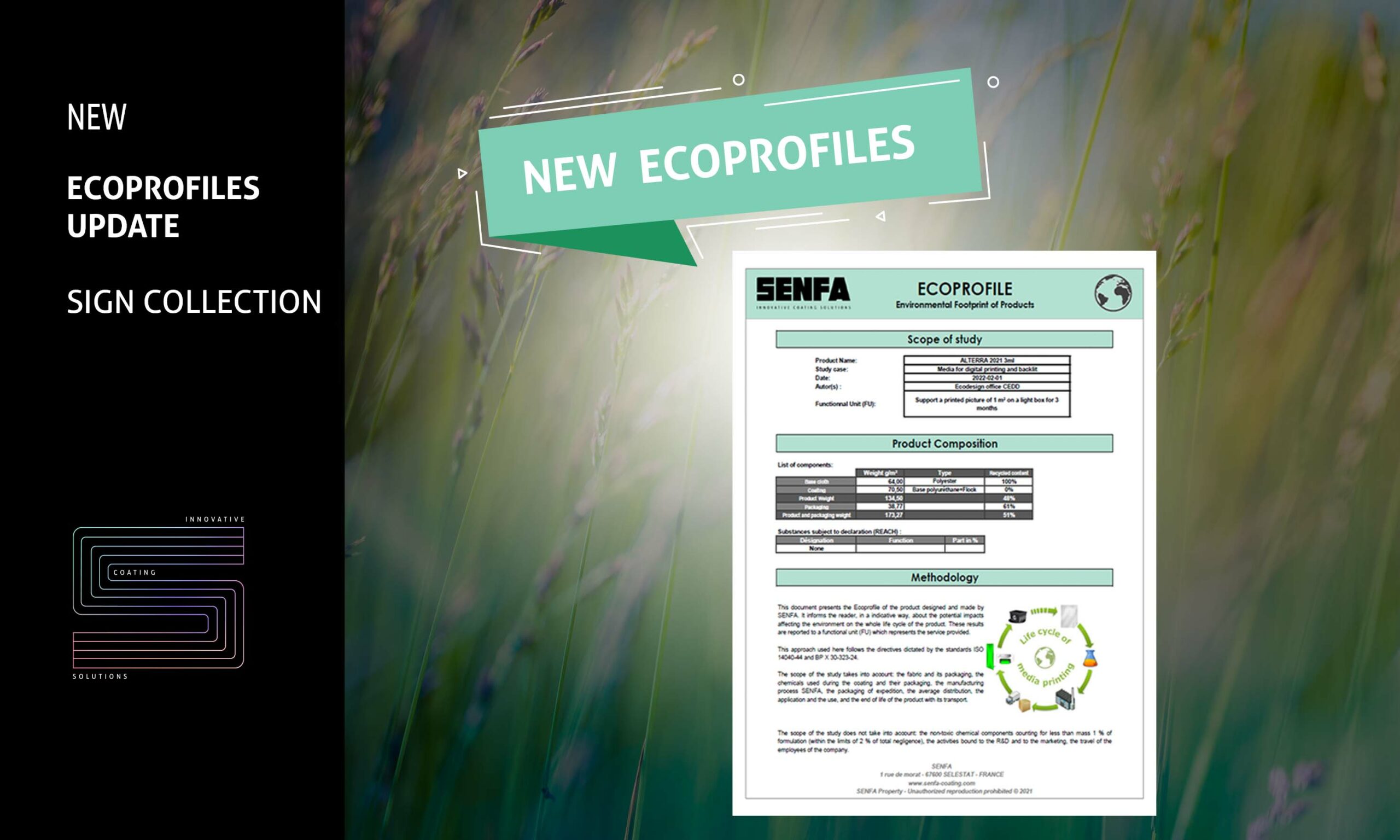 NEW UPDATE OF OUR ECOPROFILES
💥𝗡𝗘𝗪 𝗨𝗣𝗗𝗔𝗧𝗘 𝗢𝗙 𝗢𝗨𝗥 𝗘𝗖𝗢𝗣𝗥𝗢𝗙𝗜𝗟𝗘𝗦💥
DISCOVER OUR NEW ECOPROFILES FOR THE " SIGN COLLECTION" !
SENFA is convinced that chemistry can and should be more respectful of the environment. Since 2010, the company has been involved in their Eco-design management in order to offer products that combine quality and respect for the environment.
Thereby, we study the carbon footprint of each product over the life cycle and share with you in full transparency of environmental impacts assessment on the whole life cycle in the eco-profile product document (Environmental product declaration).
Cabon footprint
Eutrophication
Water depletion
Depletion of fossil fuels
▶️ Be part of the movement to reduce the environmental impact of your next visual communication campaign and use french SENFA products with acrylic coating for your future project.
Discover more products informations on our website : 𝙬𝙬𝙬.𝙨𝙚𝙣𝙛𝙖-𝙘𝙤𝙖𝙩𝙞𝙣𝙜.𝙘𝙤𝙢
📞 Let's have a discussion with our sales team about our new ecoprofiles : sales@chargeurs-substrates.com
#pvcfree #recycledpolyester #ecoprofiles #environmental #environment #carbonfooprint #frenchindustry #knowhow #coating #chemistry #respect #communication #signcollection #visualcommunication #senfa @Chargeurs